As a Life Coach, my mission at Mindful Me SB is to connect with individuals who want help to achieve their goals and dreams. Whether it is a small step or a giant leap of faith, life coaching allows individuals to figure out what the next step is while promoting positive change that facilitates a better quality of life. 
What Mindful Me SB means to me?
The stunning photo below of the Santa Barbara Channel Islands, represents the view that I see on my occasional walk up in the foothills of Santa Barbara, looking out past the Arroyo Burro towards the Channel Islands. I sometimes just stand there taking in the view and being mindful of the moment. I moved to Santa Barbara on a whim when I was 18, as if my soul was calling me to return home. I lived and attended college in Santa Barbara and then after college moved back to my hometown, Pasadena. Ten years later, that burning desire to return to Santa Barbara resurfaced and I have been living here ever since August of 2005. After living here for the second time, I realize that Santa Barbara provides peace and serenity for those who seek it. I have found that just being in the presence of its natural beauty is very healing to me emotionally, physically, and spiritually.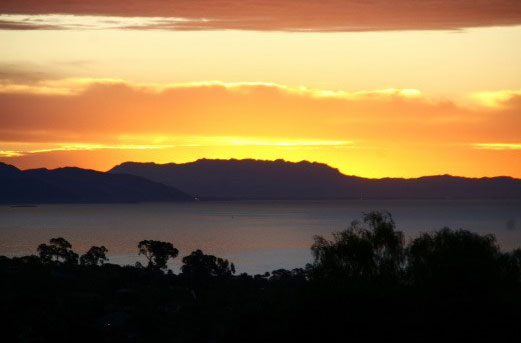 As I was trying to find meaning in the name and logo I was creating for my business as a Group Facilitator and now, Co-active Life Coach, I wanted it to convey all of the elements that symbolize my experience here in Santa Barbara. I want people to know how Santa Barbara's beauty and healing environment can be an amazing place to hold those that are struggling with and facing all types of issues in life. So, I did...with the sun representing growth, the mountains representing achievement, the ocean representing strength, and the sailboat representing one's journey. I also wanted my company's name to represent one very important characteristic that I find helps complete the healing process, which is to be more Mindful of what we do on a day-to-day basis, essentially, how we choose to live our lives. I feel that living in the very essence of Santa Barbara is what reminds me to stop, take a breath, and to be more Mindful of the moment. As a result, Mindful Me SB was born.